The Reel McCoy Film Group is a not-for-profit film society that since 1990 has been catering for people interested in cinema, particularly those who like to see timeless classics and overlooked gems at low cost.
Membership is $50 per annum, $35 for 6 months, or $20 for 3 months. Membership runs from the date of joining.
With grateful support from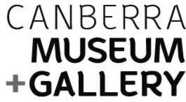 Canberra Museum and Gallery
Members of CMAG are welcome to join the Reel McCoy at a substantial discount:
membership for a year for only $20.
---
Screenings are held in the Theatre of Canberra Museum and Gallery, usually on the second and last Saturdays of each month at 1:00 pm.
Next screening:
Due to the current situation regarding public health we very much regret that we have decided to suspend our screenings until further notice.
We are very sorry for any inconvenience. We are reluctant to do this, but we think public safety must come first.
We will be back, and all memberships will be adjusted to take into account the period of non-screening.
Best wishes, and stay healthy,
the Reel McCoy Film Group
---
For more information, e-mail us or come along to a screening
---
Programme for the first half of 2020:
---
Saturday 8 February
CHINATOWN
USA · 1974 · 131 min.
Director Roman Polanski
Cast Jack Nicholson, Faye Dunaway, John Hillerman, John Huston
A classic detective picture, set against a background of political corruption. Hired by the widow (Dunaway) of a murdered City Water Commissioner, Nicholson's J. J. Gittes moves through the familiar world of the forties film noir. Starting with a murder investigation, he slowly uncovers a sinister conspiracy involving her father (Huston), the future of Los Angeles, and an even more sinister secret. Polanski's last film in the United States, this was nominated for 11 Oscar®s with Robert Towne winning for his complex and literate script inspired by the California Water Wars. One of the great films of the 1970's.
---
Saturday 29 February
THE ITALIAN STRAW HAT [UN CHAPEAU DE PAILLE D'ITALIE]
France · 1928 · 105 min.
Director René Clair
Cast Albert Préjean, Geymond Vital, Olga Tschechowa
Fardinand is on the way to church to get married, when his horse eats a straw hat which was sitting on a bush. The hat belongs to a married woman who, behind the bush, was having an affair with a lieutenant; and if she returns home without the hat, everyone will know. So Fardinand must replace the hat with an identical copy whatever it takes – yet do so without throwing his own wedding off schedule. A silent feature debut from soon-to-be master director René Clair, this inventive farce is considered one of the high points of silent comedy.
---
Programme details are subject to change without notice